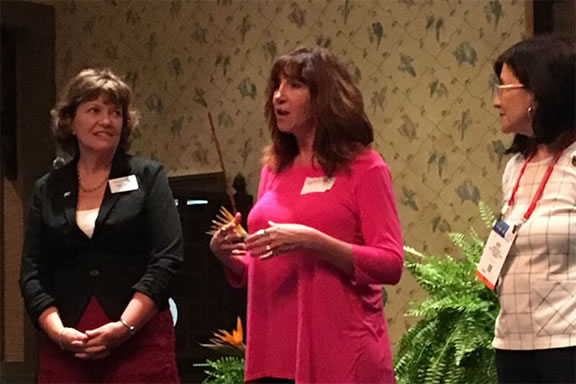 Positioning Businesses for Digital Media Marketing Success on the Small Screen.
In today's socially driven, mobile-enabled, media-rich, and SEO-focused marketing age, it's all about marketing smarter. One size doesn't fit all when it comes to content marketing.
The picturesque brochures and "in your face" marketing tactics popularized in the '90s are now obsolete. Today's customers have become desensitized to old-school marketing strategies, but the demand for content and information is greater than ever. Pam Vinje knows how to develop engaging content that positions businesses for success in the modern world.
The launch of Small Screen Producer, Pam's digital media marketing agency, allowed her to help organizations — from tech start-ups, small businesses, and manufacturers to non-profits — bridge the gap between consumers and businesses by providing a complete web presence strategy that is both sticky and viral.
Small Screen Producer helps companies build modern marketing strategies that increase web traffic, conversions, and sales. Pam uses her passion for marketing to help organizations grow by speaking at events across the country, empowering them in the realm of search engine optimization, social media, and content marketing.
In addition to personalized speaking engagements, Pam and SSP offer clients customized company webinars to give them the tools they need to enhance their online presence through interactive websites, video content, social media marketing, and dynamic search engine strategies.
Pam built Small Screen Producer to be a full-service digital marketing agency committed to helping small and mid-sized businesses implement content marketing strategies that maximize their web presence, and she wants to share her knowledge with you. It's time to market smarter.
To book Pam for a speaking engagement, contact us today.
Hear What People Say About Pam
Pam, Thank you for your lectures and insight this past week in Nashville. I cannot tell you enough how well informed your presentation was/is. It was vital information for our office as we are building a new website and putting effort into our Web presence/ reputation. We have always been a company of word of mouth, but as the world changes we look forward to evolving with it.
Grant Heuke, Action Landscape
"
"
NPC's 29th Annual Conference in San Diego was a great success, and I want to let you know how much we appreciate your dedication to the Council and your commitment to making sure it was a success. Thank you so much for your participation. We received great feedback from attendees!
Kristen Dvorak, The National Plasterers Council
"
"
Thank you for your marketing seminar at the NPC convention, one of the best I have attended over the years.
Rick William, C and R Plastering
"
"
Pam, you taught us a great deal at the Swimming Pools and Spa show this year. You are a genius, and we are very grateful for all you shared.
Beushausen Pools, Inc.
"
"
First, I want to tell you how much I enjoyed your sessions last week at the SW Pool and Spa show in San Antonio. I got a lot of great info from the classes and have already started putting some of them into practice.
Crystal Vallery, Pools Unlimited
"
"
I was so glad to get to talk to you again one on one and to hear your talk, it was, as I knew it would be, very informative and interesting. You are very good on stage, you get people's attention and keep it.
Doug Mayhall, All Seasons
"
"
I had the privilege of seeing your Facebook seminar in Atlanta and got a lot out of it. I was wondering if I could get a worksheet or a copy of the PowerPoint presentation to help me through the process. I wish there had been more time so you could of covered everything you had prepared. Again I thought your seminar was great and look forward to seeing again.
Colin Jennings, A&A Pools
"
"
I attended both of your social media presentations at the Mid America Show in Schaumburg, IL. I really enjoyed your presentations. I found the content very useful for our swimming pool maintenance company.
Mary Lane, The Pool Boys
"
"
What a great wealth of information you are today. I really appreciate the message and the level you presented it. Most of us thought we were Pool Builders but after today we realize that we need to be so much more….. Thanks for turning on the light. I look forward to learning more.
Chuck Baumann, Creative Environments
"
"