5 Ways Local Pool and Spa Businesses Can Adapt to Changing Consumer Behavior with Digital Marketing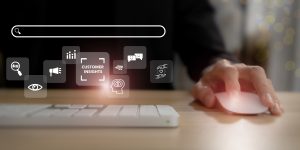 As consumer behavior shifts rapidly, local pool and spa businesses must adapt to stay relevant and competitive. One of the most effective ways to do so is through digital marketing. Local pool and spa businesses can reach new customers, build brand awareness, and ultimately increase sales. Leveraging digital channels such as search engines, social media, and email is the way to do this. We're going to take a look at five ways pool and spa businesses can adapt to changing consumer behavior in 2023.
Reach Customers During the Research Phase with SEO: Improving Search Engine Rankings to Attract More Qualified Traffic
When it comes to the pool and spa industry, consumers often spend a significant amount of time researching products and services online before making a purchase decision. Optimizing your website for relevant keywords and creating valuable content can improve your search rankings and attract better, more qualified traffic to your website.
Once you get the traffic by targeting these keywords, your website will begin showing up higher in the search results. Then, you can make sure your website has helpful information in the form of blog posts, videos, or how-to guides. You can use content to speak to the common questions and pain points your customers might have. This will help you establish yourself and your company as an authority, and help them build trust.
By being visible and providing valuable information during this crucial stage, you can increase the likelihood of converting potential customers into paying ones.
Promote E-commerce with Online-Only Deals: Attracting New Customers and Increasing Sales with Digital Deals
In today's increasingly digital world, e-commerce has become an important way for businesses to reach customers. Local pool and spa businesses can attract new customers and increase sales by setting up an online store and offering online-only deals.
You can offer a discount code for online purchases of pool chemicals or a free pool cleaning service for customers who purchase a new pool through your online store. Digital marketing strategies like email marketing and social media advertising can help promote these deals and drive traffic to the online store.
By promoting e-commerce with online-only deals, you increase the convenience for customers. This in turn increases the likelihood of converting them into paying customers.
Another thing that can benefit your company is the use of a mobile website. If your website isn't already mobile optimized, you might be missing out. 91% of customers make purchases online with the use of their smart phone (PewResearch). In fact, Mobile ecommerce sales are expected to account for 6% of all retail sales in 2023 (InsiderIntelligence). Those who aren't mobile can miss out on the boom—and the use of emerging technologies has become and increasingly powerful way to get there. Mobile apps have nearly become the standard, and it's easy to see why. Research shows that when a brand or store offer an app, 76% of customers prefer to shop that way (Cordial).
Focus on Health and Wellness to Meet Rising Demand: Promoting Products and Services as Part of a Healthy Lifestyle
The pandemic has increased emphasis on health and wellness, with consumers seeking products and services that promote a healthy lifestyle. People are worried about their welbeing, and looking for new ways to boost their health and wellness. Luckily, pools or hot tubs, and other products you may already be servicing or building are right up their alley. Leveraging digital marketing, your company can promote your products and services as part of a whole approach to healthy living.
You can partner with social media influencers to promote the health benefits of using your pool or spa or create targeted advertising campaigns highlighting the mental and physical benefits of owning a pool or spa. Targeted email campaigns to customers interested in health and wellness can also be a great way to promote your services or products.
Local pool and spa businesses can meet the rising demand for health and wellness products and services while building a solid brand image that resonates with consumers by focusing on health and wellness.
Prioritize Sustainability to Attract Eco-Conscious Customers: Attracting Customers who Value Sustainability and Making a Positive Impact on the Environment
Sustainability has become a very important factor for consumers. They are looking for products and services that are environmentally friendly and sustainable. Local pool and spa businesses can use digital marketing to promote environmentally-friendly practices and products.
You can create content that highlights your use of energy-efficient pumps or your use of eco-friendly cleaning products. Partnering with eco-friendly organizations and using social media to showcase your products and services can also be effective. It's about being in the spaces these customers want to see you. The right partnership can make your products and services stand out. Prioritizing sustainability allows companies to not only attract customers who value sustainability, but make a positive environmental impact too.
Connect with Customers on Social Media: Building Relationships, Brand Awareness, and Customer Loyalty through Social Media
Social media has become an essential way that businesses can connect with customers. Local pool and spa businesses can use social media to promote their products and services, engage with customers, and build brand awareness.
You can create engaging social media content showcasing your latest pool or spa project, partner with social media influencers to promote your services or products and run social media contests encouraging user-generated content and engagement.
By connecting with customers on social media, you can build relationships that increase sales and build a strong brand image that resonates with consumers. Additionally, regularly engaging with your followers and responding to their comments and inquiries can build trust and loyalty with your customers.
See Also: Maximizing Visibility in the Era of AI-Powered Search
The Bottom Line: Adapting to Ever-Changing Consumer Behavior 
Local pool and spa businesses must adapt to changing consumer behavior to stay competitive. By leveraging digital marketing strategies such as SEO, e-commerce, health and wellness promotion, sustainability, and social media, these businesses can reach new customers, increase sales, and build brand awareness. 
Don't let changing consumer behavior leave your pool and spa business behind. Take action today and partner with the experts at Small Screen Producer to adapt to the ever-changing digital landscape. So, whether you're a pool and spa service, construction company, or retail establishment, we've got you covered. Contact us today to explore your goals and options with our team. Let's work together to take your business to the next level and make a splash in the digital world!
About Small Screen Producer
Small Screen Producer is a full-service digital marketing agency specializing in creating custom digital solutions for pool and spa construction/service businesses. We offer various services, including website design and development, search engine optimization, social media marketing, and more. Our team of marketing experts is dedicated to helping businesses succeed in the digital space and building long-term relationships with our clients. Contact us to learn how we can help you grow your business today. 
The post 5 Ways Local Pool and Spa Businesses Can Adapt to Changing Consumer Behavior with Digital Marketing appeared first on Small Screen Producer.