6 Changes That Will Make Your Customers More Loyal Than Ever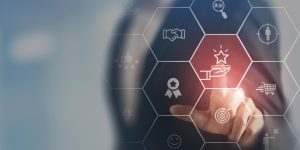 Times have changed, and customer loyalty isn't what it used to be. You can't rely on a customer staying loyal to your company based on merit and time worked with them alone: as the cost of living rises, people are looking for reasons to review what they're loyal to, and whether they believe that that loyalty is worth their hard-earned money. You likely already know what it's like to have loyal customers – the tried and true customers that keep coming back, of course, will. But what about the ones on the fence? The ones who might come back – but if they see a better deal, a more appealing number, or something just a little easier? Well, they'll be gone in a heartbeat.
The question is… how do you keep them?
What is Customer Loyalty? 
When it comes to running a successful business, longevity is key. Customer loyalty is the foundation on which a long-lasting, thriving company is built. Simply put, customer loyalty is a customer's overall dedication to a company. Do your customers keep coming back to you? Will they stick by you when you make a mistake? Will they continue to employ your services when a competing business pops up? When contemplating the longevity of your company, these are the most important factors to consider. 
Why is Customer Loyalty so Important? 
Common knowledge tells us that it's more cost-effective to keep an existing customer than to attract new customers. In fact, business experts claim that companies can increase profits by 25-95% just by increasing customer retention. This is especially vital for industries like pool and spa maintenance. These companies aren't a one-stop shop; the pool and spa industry depends upon the consistent return of its customers. If you're running a small business such as a pool and spa company, your success is reliant on customers that need your services on a weekly or bi-weekly basis. 
An article in Forbes found that even more important than customer retention is the determination of a customer's future value potential. For the pool and spa industry, every customer offers a high future value. Customer loyalty in these types of small businesses is more crucial than ever. 
What is your company doing now to keep your customers? Do you offer a loyalty program? Are you investing in digital marketing? Now is the time to consider your options and boost your company's success like never before. Here are a few tried and true methods to improve customer loyalty and secure the longevity of your small business.
See Also: Why Customer Retention is More Important Than Ever Before
1. Invest in Loyalty Programs
Customers love to be rewarded; it's human nature. Loyal customers are the backbone of a company's success, and a little gratitude goes a long way. Consider the punch cards offered at your favorite frozen yogurt shop, "Buy 10 fro-yos, get the 11th one free!" This method is simple and brilliant. Not only does the customer feel like they've been offered special treatment, but the yogurt company essentially secured 11 visits from just one customer. 
This is easily adaptable to a pool and spa business: "50% off every 5th cleaning!" Offer upgrades on customers' yearly anniversaries with the company or free merch like pool covers or other accessories. The possibilities are endless at very little cost to the company. But the return—a loyal customer who wants to rack up the rewards—continues to accrue. 
2. Encourage Referrals
A simple addition to a loyalty program that would yield great results would be a referral system. Customers will essentially handle the recruitment of new customers for you if you offer them something in return. A popular referral method offers a reward—something simple like 10% off services—to both the existing customer and the new one they recruit. 
Potential customers are much more likely to give your company a try if they are offered a discount, and current customers will be encouraged to share their referral links with as many relevant friends as possible.  
3. Create Email Marketing Funnels
The experts say that customers are more loyal when they are frequently engaged with the company. A simple way to maintain relationships with your customers is through digital marketing. Although customers don't want to be constantly sold to, a bi-weekly or even monthly check-in can work wonders. 
Consider offering your customers relevant information. For instance, pool and spa companies could supply monthly maintenance tips or the latest pool and spa-related news. Not only would this information be highly useful to your customers, but the transparency will build a foundation of trust. Additionally, your company will continue to be present in your customers' minds. Why would they go somewhere else when your company is always available to them? 
4. Ask for Feedback — Then Act On It! 
Seeking constant feedback from employees makes them feel valued and appreciated. It's quite simple to send a follow-up email after cleanings asking for satisfaction levels or to take an even more personal route and schedule monthly phone calls. Checking in with customers frequently will ensure that your company's quality of service remains high and the trust between you and your customers remains intact. 
The only catch here is that companies must be prepared to receive occasional negative feedback. When this happens, responses should be quick and efficient. Not acting to correct a customer's dissatisfaction could backfire and cause you to lose customers rather than retain them. 
5. Optimize Your Website
These days, it's nearly impossible for a small business to survive without a user-friendly website. Customers appreciate the ease of hopping online to schedule services or request help. If your company website is slow, confusing, or inefficient, customers will look elsewhere. Connecting with your services should be intuitive. 
Focus on creating local SEO-driven content to ensure that your website pops up first when existing or potential customers google your services. Blogs and SEO-focused website copy are easy ways to keep your website performing optimally. 
6. Manage Customer Service via a Loyalty App
Make sure your customer service is well-maintained and organized. Investing in a user-friendly app that manages your company's customer loyalty initiatives can improve customer retention across the board. We offer a Private Label App specifically-built for the pool and spa industry. 
Not only does the app set up and maintain company loyalty programs, but the platform also manages service requests, eCommerce, memberships, discounts, and referral programs. The Private Label App utilizes push notifications, allowing your employees to reach out to customers directly at any time. Not only does the app allow you to keep current customers happy, but it gives you the freedom to attract new customers and grow your business. 
Maintaining Customer Loyalty within Your Pool and Spa Business
Industries like pool and spa maintenance rely heavily on customer satisfaction and retention. Businesses that incorporate these practices will find much more long-term success. Show gratitude to your customers with loyalty programs, make the process easy with an optimized website and customer service, take advantage of digital marketing, and maintain consistency with feedback requests.
Simplify and automate the process with organizational tools like our private-label loyalty app. Implementing these practices long-term is the key to loyalty. Maintaining customer loyalty is much easier when you establish the systems to do so. Apps like ours make the process intuitive and sustainable. Schedule a consultation today to find out if the Loyal App is right for your pool and spa business. 
The post 6 Changes That Will Make Your Customers More Loyal Than Ever appeared first on Small Screen Producer.