6 Ways to Outsmart Your Competition with Social Commerce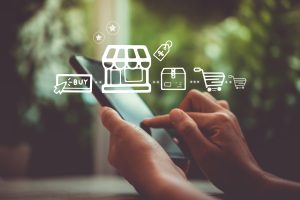 In our post-pandemic world, shopping on social media isn't a trend or a quick-fix fad. It's the new normal and it's here to stay. Social Commerce is currently a $496 billion global industry. By 2025, it's expected to grow by over $1 trillion. That's an opportunity no business can afford to be left out of. Advertise and promote your business for free in 2023 with 5 key strategies that will leave the competition in the dust of your social commerce domination.
What is Social Commerce?
Social commerce combines the raging popularity of social media platforms with the easy convenience of online shopping platforms. 
It's online shopping mid-scroll. In just a few convenient clicks social media users become full paying customers. Integrating direct sales into all the time we already spend networking, messaging, and interacting online is basically a multitasking revolution. Buying products and services straight from a favorite social media platform is lightning-fast and wickedly simple. 
This synergistic shopping model offers huge benefits to both retailers and consumers; however, it's an absolute game changer for small businesses.
Why is Social Commerce So Big for Small Businesses?
Not every business has a yearly marketing budget and a team of analysts to data mine their success. That's okay! Social commerce helps level the advertising playing field for all the start-ups, homegrown independent operators, and smaller franchisees operating within a limited geographical range.
Ready-Made Audience
Social media platforms already have massive user bases, which means your target audience is already out there just waiting for you. Using social commerce for direct sales allows you to spend less time trying to drive traffic to your storefront or webpage. It also extends your reach as wide and far as all the "big brand" stores.
Increase Traffic and Engagement
Social media platforms provide a seamless buying process.  This reduces friction and shores up leaks which improves your visibility and the chances that customers complete purchases. Social commerce also frees small business owners of the responsibility and cost behind creating and maintaining their own, independent e-commerce platform.
Build Trust
Social commerce is a quick way to increase trust and familiarity within your local demographic. This more personalized purchasing can help smaller businesses or those with a tighter geographical range. From employees to communities, users can see what their friends and family are buying and using. With more opportunities for transparency and better communication, customers get a better feel for your brand's personality. Customers who feel familiar and comfortable with a brand are more likely to make purchases.
How to Use Social Commerce to Crush The Competition
1. Just Start
The first secret to crushing your competition on social commerce is to get on social commerce!
As a small business owner, staying ahead of the competition requires being proactive. There's no time to sit around and wait for customers to walk in the door anymore. You have to take your business where the consumers are, and they're on their phones.
You can start growing your business, boosting your revenue, and building loyal, repeat customers on social commerce.  All you have to do is just start.
2. Know Your Platforms
Okay, well before you "just start" you do have to decide where to start. That means choosing a social commerce platform. 
With 56.1 million buyers, Facebook is the largest and arguably most trustworthy social commerce platform. It provides a relatively safe, simple, and professional way to launch your business into social commerce.
The infrastructure of each social media platform has its benefits and limitations. When choosing a social commerce arena that's right for your business, make sure you understand what each platform is looking for so that any content you create fits within their parameters.
Here are just a few, quick examples of popular platform particulars to give you an idea 
Facebook: Facebook has a mobile-first shopping platform, Facebook Shops, where business can create their digital storefront for free. On Facebook, try keeping your content vertical, so users won't have to turn their phone to get your message.
Instagram: Instagram doesn't allow linking in posts. Common practices like "link in bio" tools can offer you a work-around. Also keep in mind swipe-up mechanics and links in reels/highlights.
Tiktok: Tiktok is a short-form video content platform. Videos should be kept warm and casual, like organic content rather than an ads. Content that is less like a sales pitch, and more like a conversation. Similar to Instagram, you can utilize "link in bio" tools, but with some limitations. Tiktok only allows business accounts and those with over 1,000 followers on their personal accounts to link externally.
Other Popular Platforms:
Twitter
Pinterest
Snapchat
Remember, it's always best to do more of your own, extensive research before launching on any particular platform. 
See Also: Link in Bio: Social Media's Most Powerful Real Estate
3. Track and Improve your ROI
Take advantage of your chosen platform's built-in analytics tools to monitor your social media campaigns and make any needed improvements for better returns on your investment.
These free toolkits are ready and waiting with the data and information you need to make informed decisions on your digital marketing journey. Use these insights to discover how your content performs with your audience and who exactly your audience is. 
Optimize your social media marketing strategies, track your progress, and get suggestions to be even more successful. Social commerce platforms like Facebook, Instagram, Twitter, Pinterest, LinkedIn, and YouTube boast these free, built-in analytics, or explore more cost-effective tools to strengthen your social commerce connection.
4. Embrace the Influencer
Nobody likes to buy blind. On social media, that's virtually and literally impossible, which is one of its biggest draws. Social media is a hub for modern-day word of mouth.  When it comes to social commerce, customers are looking for genuine reviews of people actually using your products. They want to know what other people are buying and trying. They want to know if your medium is their medium and if your HVAC technician showed up in half an hour or 4 hours.
Enter the influencer. 
Typically thought of as "social media moguls" who promote products or services, influencers bring a whole lot of credibility to a brand. Don't let this option intimidate you or appear out of your league though because even just using real-life customer reviews in your social commerce arsenal will bring a refreshing wave of authenticity to your company. Real opinions, real reviews, and really honest recommendations are great ways to showcase your company and hype up your best sellers.
Plus, TikTok has designed a Creator Marketplace designed specifically to connect influencers with businesses. You answer some questions and enter your parameters and the TikTok Creator Marketplace (TCM) matches you with "social media moguls" with an audience fit for your brand.
5. Get Personal
Taking your business to the next level, excelling in social commerce, and embracing the future of digital marketing all boil down to one thing: You.
3.5 billion people use social media as their gateway to the world around them. Connecting, learning, discovering, and sharing all at the tips of our fingers, the swipes of our thumbs, and the center of our lives.
For a business to keep up with the social planet, shopping has to be a way to do all of those things: connect, learn, discover, and share. Social commerce is the perfect storm of people-powered purchasing.
No matter how big or small your business is if you want to get ahead of the competition, now is the time to get personal.
6. Utilize User-Generated Content (UGC)
User-generated content is one of the most powerful tools out there for businesses of any size—UGC feels like organic content, because often it is. You can partner with UGC creators to review your products and services, or utilize their skills to create high-quality content for your feed. You can encourage UGC with a branded hashtag, giving UGC content a spotlight on your page, or working directly with creators.
UGC is by no means a new concept, but influencers and social media users have revitalized the way UGC is seen. People trust other peoples' opinions. In fact, they want to hear whether other people enjoyed the product or not. More than ever, UGC has revitalized how people search for and judge content. Whether or not a product is recommended by UGC creators can nearly make or break a campaign.
See Also: 8 UGC Myths You Won't BELIEVE
The thing about UGC is it doesn't feel like ad content, it feels user generated, meaning people who would have swiped away from traditional ads will stick around a little longer to see where the UGC is going. The more users you spotlight, the more often you may see the content pop up – and this helps create brand awareness. UGC can be a review, a demonstration, someone showing off "what products they need" in a Tiktok carousel, or anything.
Stay Ahead of the Game
By utilizing these strategies for social commerce, you'll be able to gain a competitive edge and drive sales for your business. Whether you're a small business owner or a marketer for a large corporation, there's always room for improvement. So, why wait? Start putting these tips into action today and stay ahead of the game.
Unfortunately, you know what you want… but do you know where to start? Where can you revitalize, and where should you start from the ground up? If not, you're not alone. That's where our team of marketing professionals at Small Screen Producer come in. We can help you figure out where you are, where you need to be, and how to move forward—which is often the biggest hurdle. If you don't know where to start, or need help fleshing out a plan – let us do it for you. With our knowledge of the pool and spa industry, you'll reach heights you'd never considered – all without needing to dig in, yourself. In that case, us do the marketing dirty work, and handle your workload: you can focus on what you do best, and we'll have your back.
The post 6 Ways to Outsmart Your Competition with Social Commerce appeared first on Small Screen Producer.