8 UGC Myths You Won't BELIEVE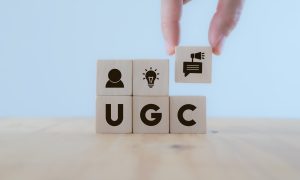 Despite UGC's growing popularity and proven value, some myths still hold it back. People are concerned about UGC's quality or reliability or believe it's only beneficial at certain times for certain companies. That couldn't be further from the truth. These UGC Myths might be holding you back.. and you may not even realize it!
Today, we're going to debunk those myths. We want to dispel the notions that might keep you and your company from investing in User-generated content. UGC can significantly impact your brand awareness, your user engagement, and so much more. From enhancing trust and credibility with customers to cost efficiency and providing valuable insights, we'll show you how UGC can help your business thrive. Whether you're an entrepreneur or a marketing professional, this article will give you a deeper understanding of the power of UGC and its potential to drive success for your business.
8 Myths About UGC That Couldn't Be Further From the Truth
1. UGC Is Unreliable and of Lower Quality Than Traditional Ad Media. 
As it turns out, many businesses have found that UGC comes across as more authentic and credible than traditional marketing. Where people might turn off or scroll past an ad, they'll stick around to see someone showing off or enjoying a product. UGC is created by real people who've had real experiences with the product or service, meaning it comes across as more organic rather than paid for by advertisers or marketing professionals. 
Customer reviews on an eCommerce site or social media post on a hotel's page can give potential customers a better sense of what to expect and a glimpse of their customer service and experience. This brings more to the table than professionally-produced advertisements; People connect with reviews more directly as they answer potential customer questions and provide personal insight. 
UGC, in the form of testimonials and case studies, is shown to be more persuasive and influential to customers because of this real-life example of how a product or service has benefited others. It's created to be shared and promoted alongside organic content, which can lead to a broader reach and more engagement than traditional advertising. 
2. UGC Is Only Good For Social Media and Consumer-Facing Companies.
Using the example from before, UGC being used for a hotel or destination can better give a potential customer a look into the experience and get them to pull the trigger on making plans. A travel company might use UGC in the form of customer photos to showcase destinations and adventures. In contrast, a retail company might use it in the form of customer reviews to help build trust and credibility with potential customers. Hospitality companies like restaurants and cafes might use the same UGC between reviews and photos to attract more customers who want to experience the same meals. 
UGC can be valuable for businesses in any industry – people want to feel assured that they're making a good decision, and sometimes just being able to check reviews or see a good photo of what they'll be getting can help them make that decision. 
3. UGC Is difficult, if not impossible, to monetize. 
This couldn't be further from the truth – there are plenty of different ways to monetize UGC despite feeling a bit out of your hands as it's shared by others. This includes: 
Sponsored posts: Companies can pay users to create and share content that promotes their products or services.
Affiliate marketing: Businesses can pay users a commission for every sale generated from their user-generated content.
Product placement: Companies can pay users to incorporate their products into their user-generated content, such as in a video or photograph.
Advertising: Businesses can use user-generated content as a form of advertising by displaying it on their website or social media channels.
Influencer marketing: Companies can pay users with a large following to promote their products or services through user-generated content.
4. UGC Is Only Good for Marketing Towards Younger Audiences, Like Gen Z or Millennials. Other Generations Won't Respond to It The Same. 
Nearly every person who shops and browses online is susceptible to UGC and its capabilities. Older consumers are likely to trust and rely on product reviews and recommendations from other customers. Additionally, older consumers are still potentially active on social media and other digital platforms, meaning they might be interested in sharing their own experiences with their friends and audience. 
It's essential for businesses to not limit their UGC strategy to a specific age group or forgo it because they assume they've aged out of that strategy. Consider the interests and behaviors of all age groups when working with UGC to reach the widest audience possible. Having a diverse range of customers sharing their personal experiences can also help you build trust and credibility with a broader range of potential customers.
5. UGC Is Only Good For B2C Companies, Not B2B. 
With a more complex sales cycle and a smaller number of clients to target, it might be easy to overlook UGC as a B2B business. Though user-generated content can still be helpful even if you aren't B2C. Customer testimonials and case studies can be powerful tools for showcasing your company's products or services amongst business clients. UGC can also build thought leadership and help establish a company as a thought leader in the industry to build trust with potential business partners. 
You can utilize UGC as a B2B company to help increase your brand awareness and engagement and help promote your products or services to a broader audience. A diverse range of customers, including businesses, sharing experiences with your products and services can also help you build trust and credibility. People want to know and trust the products they buy and the companies they work with, and you're just helping to provide them a way to do that. 
6. UGC Is Only For Online and Digital Platforms. 
User-generated content is shared and distributed on a wide range of online and offline platforms. For example, businesses can collect customer testimonials and reviews and use them in print materials such as brochures, catalogs, billboards, or TV commercials. Companies can also leverage offline events, such as trade shows or customer events, to collect user-generated content and then use it to promote their products or services through various channels.
Offline UGC is also used in traditional ads, such as radio or television ads. For example, a business could collect customer testimonials and play them as part of a radio or TV commercial to showcase real customer experiences.
7. There's No Oversight in UGC, and as a Business Owner, You Have No Control over it. 
Now, this is a half myth – UGC can notably be difficult to moderate and control. It's created by the users and controlled through them. When a business utilizes UGC, they don't have complete control over what's being said. Customers can post favorable reviews alongside negative ones, testimonials, and other content. Since it's posted by users, you have no way to control up-front whether it aligns with your messaging or values. Organic UGC simply doesn't work that way. There's the potential for posting offensive, inappropriate, or fake content, which can damage your reputation as a business. 
When going into these user spaces, it's essential to be ready to moderate and manage UGC. This will help ensure it aligns with your brand's values, as well as being appropriate and authentic. This can be difficult but can ensure that you, as a brand, aren't suffering for UGC's sake. It can require a dedicated team or third-party service to monitor and moderate the content. Your online reputation is on the line, and it's important to stay on top of things. A plan to address negative or inappropriate content is important, so you can be prepared for whatever comes your way. 
8. UGC Is Only For Big Businesses With Large Budgets. 
User-generated content can be a cost-effective way for small and medium-sized businesses to promote their products or service. It's often less expensive than traditional forms of advertising. Companies can use social media platforms to collect and share customer reviews, testimonials, and other UGC without cost. Small and medium-sized businesses can leverage user-generated content in other marketing materials such as brochures, catalogs, and billboards.
Furthermore, small and medium-sized businesses can use user-generated content to build trust and credibility with potential customers. A diverse range of customers sharing their experiences with your products or services can be powerful and convincing. Often, moreso than traditional forms of advertising, because it can build trust and credibility.
See Also: Customer Engagement Hacks: How to Revitalize, Without Burning it All Down
UGC Can Take Your Content to the Next Level
As a valuable tool, UGC can help businesses of all industries and sizes build trust and credibility with customers. It can provide valuable insights and feedback, and even increase cost-effectiveness. Debunking the myths and misconceptions surrounding UGC show how many benefits UGC can bring to your content marketing strategy. If you weren't using UGC before.. imagine how powerful it can be, now?
User-generated content can provide a powerful and authentic perspective on your products and services – and give you a real leg-up in the industry. UGC isn't just some buzzword… It's a powerful tool that can be used to put your content on the dashboards of people who might never have found you otherwise and build trust well before they ever reach out. 
Interested but don't know where to start? It can be daunting thinking about letting users take the reins on your online reputation – and that's what we're here for. Our Internet Reputation Protector program has the tools to keep you in the driver's seat – even when you let users create the content for you. By positioning yourself to take charge and be on top of your online presence, you'll never be surprised by a negative review – and you can even come out on top! 
Our team of marketing professionals is ready to help you get in there by putting everything under a single dashboard with notifications and analytics tools to aid you along the way. If you schedule a consultation, our team can show you the behind-the-scenes of how this all works… And how it can work for you.
The post 8 UGC Myths You Won't BELIEVE appeared first on Small Screen Producer.