Why Marketing Automation is Important for Businesses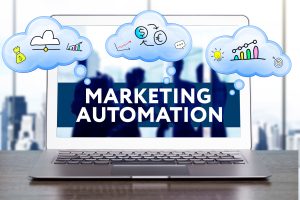 Marketing automation has become an integral part of companies seeking to secure a competitive edge against their competitors in today's business world. According to a report by invesp, 91% of businesses who use marketing automation see it as a vital aspect of the success of their online marketing campaigns.
So, what's marketing automation, and why is it important for businesses?
Marketing automation refers to the process of utilizing technology to streamline, automate, and measure marketing tasks and workflows. This automation helps you and your marketing team manage tasks easily and efficiently, leading to better results for your business.
In this article, we'll discuss the benefits of marketing automation for pool and spa companies and how it can help your business grow. Stay tuned!
1. Saves time
Marketing can be a time-consuming and overwhelming task for companies that build and sell swimming pools and hot tubs. From creating and sending out marketing materials to coordinating campaigns and tracking results, there's a lot to keep track of. Luckily, marketing automation can help take some work off your plate.
By automating repetitive tasks, such as email marketing, social media campaigns, and lead generation, you and your marketing team will have more time to focus on other important aspects of your business.
2. Generates better leads
Lead generation is vital for business growth and success. By automating vital marketing tasks, swimming pools and hot tubs, companies can gain more insight into their target market and identify and focus on the most promising opportunities. Here you can also develop effective marketing strategies and find better ways to connect with potential customers for your pools and spa business.
A recent report by Invesp revealed that 80% of marketing automation users saw an increase in the number of leads generated.
By generating better and qualifying leads, you increase your business's conversion rates, resulting in more sales.
3. Personalization
Marketing automation for pool and spa companies also plays a huge role in personalizing the customer journey. With the right data on customer behavior, you can use marketing automation to tailor your swimming pools and hot tubs' marketing messaging and offers to each individual customer.
With personalization, you can send the right message to the right customer at the right time, resulting in more sales and happier customers. Not only does this make the customer journey more efficient, but it also helps build strong customer relationships that can last a lifetime.
4. Increases ROI
Through marketing automation, you can free up time and resources that can be used to focus on more strategic tasks vital for your business' success. In addition, marketing automation helps improve the efficiency of marketing campaigns, making it easier to track results and identify areas of improvement.
It also helps generate qualifying leads and targets the right customers increasing the conversion rates and boosting sales.
Also, by providing your marketing team with access to data and insights, marketing automation can help improve decision-making and increase the effectiveness of marketing strategies. Typically, marketing automation is a powerful tool that pushes businesses a step closer to achieving their desired results.
Bottom Line
There you have it, our top reasons why marketing automation is vital for pool and spa businesses.
So, if you are looking for a way to increase the efficiency of your business and gain an edge over your competitors, try marketing automation.
Want a marketing automation solution that matches your business needs? Contact us today and we will get you set up for success!
The post Why Marketing Automation is Important for Businesses appeared first on Small Screen Producer.