4 Mistakes That Ruin Google Business Profile Rankings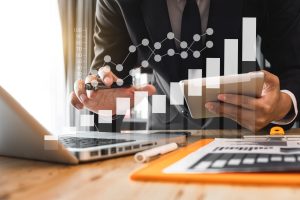 Did you know 97% of people will learn more about a local company from their online presence than anywhere else? As a local service or business owner, you must ensure that your company is on their screen when customers search their area – you need to get your business ranking fast.
If you want to have a solid digital footprint for your business and make a splash with your desired customer base – you need to make sure you're utilizing your Business profile to its highest potential. You can have a dozen pool contractors and service businesses in your area. Still, if you want to be the local source, you need to get yourself there. Keep in mind, if your company doesn't come up on a local search for "pool builders"… it's time to figure out why!
If you already have a GMB account, great – this is the first thing you need to get on their radar. However, you might be surprised – Just having it isn't enough anymore. Not only do you need your account, but you have to keep it consistently updated and optimized and give the customers everything they might need because they might never end up on your website. With the rise in zero-click searches, you may not even be able to control that.
That's why it's all about ranking.
What happens when you don't have the most up-to-date, SEO-optimized information available, and how can it hurt your profile ranking on the search results? 
4 Mistakes That Could be Ruining Your Google Business Profile Ranking
You need to consider many factors when optimizing your Google My Business account. It's best to have as much covered as possible because many customers will use it as their main point of contact and not go further than the search result. We'll look at 5 mistakes that can ruin your chances of ranking with your Google Business profile, and you'll see just how easy they are to make. If you see yourself in these mistakes – never fear. There are ways to fix it! First, you must catch these issues in their tracks – and go from there.
4. Weak Descriptions or Poor Visuals
It's important to include as much information and detail as possible from the beginning. That way, customers won't have to go far to know what you offer. Products, images, and descriptions can go a long way in showing off the quality and scope of your services. Completed profiles provide valuable information, which can aid in conversions… and that's half the battle. However, the danger is that people will check these if you have them.
Care and time should be put into ensuring the descriptions are fully finalized, read correctly, and the images look good. Weak or unappealing images, incomplete sentences, and other errors can single-handedly ruin your efforts and instead work against you. Invest in your visuals and text used to represent and describe your business. In short, this will work for you 24/7, helping you start ranking on the first page. Around the clock, your profile is your first line of defense in a local search. Arm your profile with all the tools – and it'll be primed and ready to convert on its own.
3. Leaving Messy/Unfinished Formatting or Bad Editing
It can help a lot to have a professional go through with a fine-toothed comb on your profile before you publish. This will help to ensure proper spelling, grammar, and catch other formatting issues. All your links should be up to date, your sentences should be correct, and your punctuation should also be. Even a self-check tool like Grammarly can help you do this on your own if this is in your comfort zone.
Your structural makeup of the text and wording throughout your profile will make or break someone's first impression. Some customers might not notice, but when things aren't edited properly, it'll leave a bad impression to those who do. It doesn't matter how up-to-date your profile is. If you leave posts riddled with mistakes or broken links, customers may not respond as favorably.
2. Leaving Out Of Date or Lackluster Offer Posts Up
The more access you can give customers to your information and updates, the better. They won't have to dig around or look for deals if you make it easy for them. Chances are, if you don't offer those posts up front, they won't go looking in the first place… They'll just check out your competition instead. Offer posts on your profile can help you connect, make announcements, share sale offers, or show off new or popular stock items.
The thing is, you need to stay up to date and moderate these. Like everything else, you should keep your offer posts up to date, boosting your chances of making new connections with new customers. Honestly, clearing out "old" deals and sales can make things look updated. Imagine it's March, and your posts are STILL full of expired Black Friday deals or an end-of-year bonus that isn't running anymore. Either you'll get plenty of leads based on wrong info, or they'll be turned off entirely – it looks messy and a lot like spam when things aren't cleared out, so it's a good practice to clear things out every now and again and make sure it's updated!
See Also: New from Google: Local Service Ads
1. Leaving Google Reviews Up To Chance
Without question, getting and maintaining reviews on your profile is one of the most important things you can do in optimizing your online presence. Your profile is the one-stop shop people have been asking for, but you're fighting an uphill battle with unchecked reviews.
Google reviews matter: google reviews give you credibility, increase your average click-through rate, and will help your rankings. This is why paying attention to the reviews you get on your business's Google profile is critical. Foster positive customer interactions to turn into good reviews, monitor your page for incoming reviews, and respond to them. This goes for both positive and negative reviews or feedback. Making initial contact and trying to smooth things over might allow you to ask the customer to remove or edit it quickly enough that it won't do as much damage as when left alone — being proactive about it can make all the difference.
A lot of this might feel like common sense – of course, you already knew keeping things tidy and up to date would be a good idea. But for some, you might not realize just how important your Google Business profile is in today's market. The consistent and routine maintenance it takes to stay up-to-date might be more than you're used to, and that's because Google is prioritizing these factors more consistently than they have in the past. What worked before might not be serving you now – and that's not bad. It's progress.
If you feel overwhelmed or daunted by doing all this at once—you don't need to do it alone. That's where we come in. We have a team of Google experts and SEO professionals ready to help get you where you need to be and get you on the path to ranking your Business profile. Local audiences want your services, but what if they're not seeing them? Some of these mistakes can keep you from ever landing in the right place.
On some level, everyone needs a little help now and again. Schedule a consultation with our team today, and you can avoid the mistakes countless others have made.
The post 4 Mistakes That Ruin Google Business Profile Rankings appeared first on Small Screen Producer.