You Won't BELIEVE Where Social Media Will Go in 2023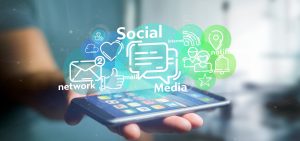 Rounding off the end of the year means a lot of things, like the holidays and new years resolutions, but it's always important to look ahead. It's been a crazy year for social networks across the board. Between Meta's struggles, Tiktok's rise, and Twitter's upheaval – we could see anything going forward with any of these platforms. 
Your small, local business needs social media just as much as the big brands. Platforms change all the time, but uncertainty can be confusing when you're trying to plan your strategy going forward – wouldn't it be nice to have an idea of how that might go? 
We have some idea of what 2023 might hold for the major social platforms, especially for those currently building brand awareness or brands dipping their toes in the water. Just looking where it could go can keep your mind from catastrophizing – keeping away from the crazy, brain-reading, far-off forecasts of the distant future and keeping you solidly in the realistic possibilities of what might come over the next year. 
Facebook
This year, Facebook has had a rough time, losing ad dollars and falling out of favor with younger users. TikTok's short-form algorithm-led approach has changed consumption behaviors, and Facebook struggles to keep up. Despite all of this, Zuckerberg claims to have a plan to get things back on track. This includes: 
More AI-Recommended Posts – Stemming from Tiktok's ever-popular algorithm, Facebook has claimed they'll begin implementing a similar strategy. Replacing organic feed content will lead to new connections and a more engaging feed mix for those who stick around to see the end result. This could mean an expanded opportunity for Facebook to show off your best-performing posts to a broader or brand-new audience. Facebook has been moving away from promoting external links and leaning into engaging, platform-native content like memes and audience questions. This could boost brand awareness to get new people following along for your other posts. 
Click-To-Message Ads – More and more engagement is happening in DMs, or direct messages. Meta will likely be looking to highlight tools to help brands lean into the shift. Recently, Meta highlighted the growth in Click-to-Message ads in Messenger and WhatsApp to help drive this behavior. Marketers and brands should expect even more ad options to help facilitate the change. 
Posts From VR – Meta will likely promote its shift to the Metaverse via VR social posts, including its announced share-to-Reels option on VR. Expect meta to start providing new VR options for sharing, including video chats and direct-posting options. This can showcase what people are doing and what you might be missing out on in the VR space. 
Facebook remains vital for the pool marketing sphere and the audiences we all know best. Facebook ads are ever-changing and ever-evolving, growing for machine learning capabilities and the things that have to come. Natively-hosted content will eventually start to see more light with Facebook's attempts into the algorithm space. Expanded opportunities to connect to customers through DMs will give you more options than ever to communicate with your client base and connect one-on-one. While Meta might be struggling with its identity crisis, it continues to do some things right regarding advertising, AI learning and giving brands a place to shop. 
See Also: The Facebook Machine Learning Nightmare: Tips to Avoid Insanity
Instagram
Instagram is looking to keep up with the latest consumption trends and habits, leaving it without an identity. Copying from Tiktok's playbook, Instagram is fending off the competition a bit better than other platforms – recently reporting that it's up to around 2 billion monthly active users. There are a lot of overlaps between the two social platforms, coming from the same parent company. Instagram has some exciting potential for the once-simple, photography-focused platform. 
Reels-Focused Updates – Instagram, like Facebook, wants ai-recommendations to work. This will likely look like more random updates and integrated reels. Video formats are a powerful form of marketing, and Instagram has been positioning its Reels as the leading format for users and brands alike. Instagram will likely revisit its full-screen feed tests with users who consistently engage with stories and reels. 
Next-Level Integrations – Instagram is a crucial bridge for Meta, its parent company, from the current state to where they want to be in the Metaverse. It will likely focus more heavily on creating more robust systems for creators. Instagram will probably spend 2023 adding new forms of content creation, likely AR and 3D posts in general, integrating NFT art and other new forms of content that suit the platform. New creation tools can be expected, like GIFs generated from live photos or the integration of 3D creation tools. 
Live Shopping – While it's still in the works, Instagram is experimenting with life-stream shopping, which has been a wild success so far. In 2023, Instagram will likely focus on that through a new app tab, offering a full-screen, 24/7 live shopping feed. If that catches on, it could be a massive earner for the app and boost in-stream commerce capabilities. 
The image-focused platform has a strong, almost cult following amongst different age groups. With a focus on Reels and other entertaining, short-form content, Instagram has set its sights as a possible storefront platform. Commerce options can be an excellent opportunity for repeat and subscription orders, as well as keeping relevant with your audience. If you make things easier for them to shop, they won't have to search for 'easier' alternatives (hopefully, that'll be you!) 
See also: Link In Bio: Utilizing Social Media's Most Powerful Real Estate
Tiktok
As the hot trending social app of the moment, Tiktok remains the most controversial. In 2023, we may see controversies surrounding its link to the Chinese Government continue to keep political scrutiny high on the app. This may force TikTok to more clearly separate its data from the CCP, leading to issues for the app down the line. However, there are other significant opportunities Tiktok may capitalize on with its current popularity and growth projections still standing. 
Live-Stream Commerce and Shops – Live-stream commerce is a critical earner in the Chinese markets with the social app, and it makes sense that Tiktok will also push this feature into other regions. Western markets are slower to catch on to the life-stream shopping trend, but Tiktok in 2023 will likely push this feature as an alternative solution to making money on the platform as a content creator. 
New Creator Payments – Creator payments have not been the best system implemented on Tiktok, as the Creator Fund doesn't provide the impetus for big creators to stay on the app and continue contributing content. The issue is that as Tiktok gets bigger, payouts get smaller, meaning creators are paid less. New models are being tried out on Tiktok, but with Youtube's new Shorts system, Tiktok is trailing behind in payment methods. In 2023, view-based payments will likely be tested out, paying the top-performing videos a percentage of ad intake to help provide more incentives to creators on the platform. 
Tiktok is contentious to many – and some are still on the fence. However, their advertising options and playbooks continue to expand what they offer and what is still to come. Dipping your toes in the water with Tiktok might surprise you – the age demographics are constantly changing. A growing number of users and businesses have joined Tiktok ready to take full advantage of what the short-form content platform has to offer. When considering your social content mix, 2023 might be the year to jump on the Tiktok bandwaggon.
Twitter
The uncertainty and upheval of Twitter, from the ground up, has made it the most difficult social platform to predict. New CEO Elon Musk has laid out various plans, none set in stone, replacing the team from the ground up. Anything is possible, and nothing from Twitter's past really can set a precedent for the social platform going forward. 
Opportunities for Payments – Musk could begin using the network effects of twitter to scale payments on a new level and provide improved transfer and remittance services to more users. This is thought to include those without access to banks, similar to other third-party payment apps on the market. Musk has expressed interest in this for Twitter, given his past work with paypal shaping much of his professional experience. It's likely Twitter will build on this, first establishing a payments backbone for the platform.
A Bigger Subscription Push – With the roll-out of the highly-contested $8 verification, we'll have to see how Musk's team continues with the desire for subscription-based revenue. We may see this turn into a fee to use the app. They may also pivot it as a service by enticing users with improved analytics features and insights. If Musk's team takes note of the way popular third-party tools work, it could hold significant benefit. They could integrate them as an improved, native Twitter Analytics offering, along with the current suite of Professional Profile Display options. 
Longer Tweets – Twitter has always been the short-form messaging platform, but Elon seems to have other ideas. He's expressed interest in offering and integrating longer tweets and video options for twitter's users. The push seems to come from a desire to keep users on platform, rather than clicking links.
Trial and Error – One thing that Musk has made clear is a desire for trial and error. Going forward, they'll be experimenting with new ideas and thought processes, to see what works and doesn't. They try to figure out where they will be best suited, how to do it, and what won't work. Twitter will try things, revert back, and make compromises as it goes.
Most advertising advice now says to pause on Twitter for the time being. The leading suggestion is to watch and wait: see what works and what doesn't, and go from there. If your business currently has success through its ads and presence on Twitter, keeping steady for the time being isn't a terrible idea. With most companies taking a step back, you may have the opportunity to take up a more significant portion of their market pool without a higher ad spend. 
Pinterest
Pinterest has had a very up-and-down year, but with a more steady trajectory as we finish 2023. With the massive boost they benefitted from during lockdown, Pinterest eventually saw the audience pull back when physical stores reopened. The platform in turn has reignited its product discovery and eComerce push. This comes along with a new CEO, the former Google Commerce chief, Bill Ready.
International Expansion – Pinterest has a lot of growth in new regions if it wants to maintain its strength. Key markets respond well to the platform, as its income from North American users towers over other areas. Pin ads aren't yet available in all markets. Building ad opportunities will likely be 2023's primary focus to capture new markets and align better with new local opportunities.
Refined Search & Discovery – As the backbone of Pinterest's operation, Discovery will likely remain a key focus. The platform has significant opportunities to highlight the most relevant products through improved search processes and potential new tools. Pinterest has continued to progress on this front, adding personalized discovery tools. In 2023, we'll likely see Pinterest continuing to refine and improve processes to help maximize product discovery. One way Pinterest may do this is by adding more product comparison options. It will effectively become a "window shopping" app, as it helps users find the best deals. 
Streamlined Listing Process – Pinterest needs more products, to in turn make money from those listings. You can expect in 2023 to see the platform continue to improve its tools, helping merchants list their items as buyable pins.
With more than 367 million monthly active users worldwide, Pinterest has a massive global reach. Marketers in the US stand to gain a lot by implementing some of Pinterest's features. Their marketing tools have grown over the years—SEO, story pins, trends, promoted carousels, promoted videos, conversion optimization, and more. In short, no matter what form they take, your ads can thrive on the platform. It definitely wouldn't hurt to see how others in the industry already take full advantage of it. 
In Conclusion
Social media marketing is already one of those things that most brands and companies struggle with. The internet landscape changes so rapidly that it's hard to keep up. What might have worked pre-pandemic might not anymore. That's where we come in. No matter what platforms you're currently on, it never hurts to work with an expert. We'll help optimize your social media presence to the latest and greatest with our team of experienced strategists and experts. Your pool business can thrive in the online space, even if you feel late to the party. You're never too late – the worst thing you can do is not try.
With a consultation, we can figure out how best to position you in front of your audience. We'll help you pursue your leads, promote, and protect you from everything else the internet might throw at you.
The post You Won't BELIEVE Where Social Media Will Go in 2023 appeared first on Small Screen Producer.