6 Email Ideas to Kick-Start Your Campaigns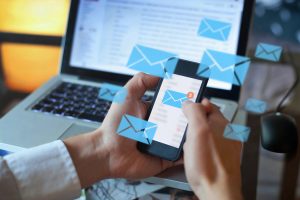 When your email marketing routine becomes too routine, your audience will grow bored and unengaged. Weekly newsletters, holiday promos, and welcome emails – while effective, this makes pressing "send" too easy, and the content will eventually become lazy. How do you expect to engage an audience and stand out against the dozens of other emails waiting in their inbox if they're getting yet another email? How do you make content that engages and grips them so they look forward to the little notification? 
As people become less and less engaged with their email inboxes over time, it's on you, as the brand owner, to revitalize your marketing copy. Just because it worked in the past doesn't mean it's working today – audiences change, and so do the things they want to read and click into. 
Today, we'll look at six different types of email content you can use to refresh your strategy. This might not be an exhaustive list, but it's full of fresh ideas you can start implementing today. Whether fresh to the market, or knee-deep against your pool service competitors, you're bound to find some good ideas on this list to send new email content. 
1. A Welcome Email or Welcome Series – The welcome email, to start with, has become an increasingly common practice for most businesses – and for a good reason! This email content has the highest open and engagement rate – it's the first marketing material they receive from a company. It'll be the first accurate impression you get to leave on a potential customer. Today's customers and new subscribers have come to expect this email after their first purchase or subscription and often will be looking out for it. Exceed their expectations – send them an outstanding welcome email, or have a series ready to welcome them from the get-go.
Some Questions You Should Ask Yourself
Are my welcome emails sent based on sign-ups? Does everyone get the same thing? You'll get different levels of engagement based on website vs. social media sign-ups. You can push for cross-engagement where possible. Just because they've purchased from you doesn't mean they follow your social media page. If they signed up through social media, they might benefit from an incentive to check out your other pages or even some of your offerings.
When customers buy from me, what else do they want to see? Can I send them relevant suggestions? When a customer buys a specific product or service, you can follow up with things in line with that. Offer them relevant add ons, or follow up with sound suggestions related to that. Did they purchase a pool cleaning? Send them an email including an article on how to maintain their pool between cleanings. Or maybe offer a product meant to sustain them in between. Offer them things tailored to their needs based on the information you can gather. It'll feel more personalized and less like a "sales" email. 
Are my welcome series emails engaging and informing? You should offer information alongside promotions in your email content. If you spend too much of either of these, customers will become disengaged and disinterested. With too many promo emails, they'll feel like you're just trying to sell to them. If you give them too much "content," you'll overwhelm them. 
Is the 'welcome series' too company-focused? You want to offer them information about your company and offerings. If you're doing it too much, isn't nearly as valuable to the customer. Unfortunately, this means you won't find the same level of engagement – and it can do more harm than good. Find ways to shift the focus about how your company and its offerings can help your customers. That way, they'll connect with the information much more if they see its value. 
2. Promotional Emails – Promotional emails have changed over the years, and so have consumers. People have become leery of this type of email content, as they've learned they don't want to be "sold to" in traditional ways. The world grows in technology and the information available, and consumers are more and more aware of when these promo emails are 'just' there to sell to them. Like a solicitor at the door, they'll be turned away (or tossed in the bin). 
You, in turn, have to change as well. You're tasked with offering your audience and potential customers a good mix of engaging emails and promotions. You can do this by mixing your content with your advertisements. Your promotional emails can focus on the sale and the offer with a stand-out CTA. Then, beneath the offer, you can provide additional free content to supplement such an offer with a less eye-catching CTA. Customers will then have space to dip their toes in without triggering a purchase. In turn, you'll have a way to lead them in softly to convert them later on.
See Also: How Can I Keep My Newsletter Emails from Going to Spam or Promotional Tabs? 
3. Guides, Blogs, and other Content Marketing – Highlight some of the excellent content you need in an email. Make sure you show off the available information and the content you've put out. Sending out "blog-focused" emails can help highlight individual blog posts and put most pressing and engaging content at their fingertips. Readers increasingly want to get curated, relevant content in an accessible format. The rise of algorithms and social media has primed people to like this content hand-delivered. You can do that by sending out the right emails to the right audiences. You can send weekly highlights to showcase different pieces of content for your audience to engage with. 
Tip: You Can Make a Weekly Newsletter out of these Blog, Guide, or Collection email types. If you have customers who regularly know to turn to you for the most interesting, engaging, and relevant content, dedicate a newsletter just to this, and give them points to join other newsletters. Some users will opt-in to it and come to look for your emails – if you're offering them value. 
4. Loyalty and Rewards – You want your audience to stay loyal and continue to retain them. It costs much more to grow your audience than to maintain the ones you already have, and loyalty and rewards programs can incentivize them to stick around. Sending rewards based on purchases is a great start, as you can offer them coupons to have a repeat order or offer them a discount on future services related to the one they may have received. You can give them tiered rewards to aspire towards – spending a certain amount provides your base with a discount or free shipping, etc. – and these incentives are the kind for which people would check their emails. 
See Also: Customer Loyalty & Satisfaction: Using Customer Satisfaction to Drive Retention & Build Loyalty
Some Rewards Ideas You Can Start With 
Rewards-Based On Purchases – You can couple coupons with a purchase to ensure future sales or repeat offers or offer them a discount on related services to give them a more personalized experience. 
In-Store or Online Traffic – If you're heavy on traffic online and want more in-store foot traffic, try offering in-person coupons or discounts. eCommerce sites like Amazon provide subscription discounts for customers who will regularly need a product delivered – you can offer the same for customers purchasing a product to make sure they don't go shopping around.
Tiered Levels of Rewards – Give them a bar to reach, with some tracking implementation – if they spend a certain amount, they hit a new "tier" and get a base incentive, like 10% off or free shipping on a product. 
Incentivize Feedback & Shares – If you struggle to get surveys and reviews, offer incentives for that behavior – a coupon in exchange for a survey, so they get a bonus, and you get valuable feedback. If they share a post on Facebook, you could offer them a discount or something in return. Loyalty and rewards are tools for you, the brand owner, to keep people around. Test and see how your audience reacts to different techniques.
5. Behavioral-Based Emails – Triggered emails, transactional emails, automated and behavior emails. These are ways to describe emails sent by your platform based on specific behaviors and actions. A popular one is the shopping cart abandonment email. You've probably gotten them, yourself – they're sent when someone adds an item to their cart but doesn't finish the purchase. In this case you just need a way to link an email to a user, and track their individual behavior. This goes for any other behaviorial emails, you can always follow through as long as you can track their actions.
In addition to behavior on your site, you can also track email behavior. With the massive repository of information you have showing the engagement statistics of your entire list, your email service provider should be able to offer this information. You can set up various re-engagement emails for customers. You can do it for those who have opened emails but not clicked through or are constantly clicking through and haven't purchased yet. If you notice signs of disengagement, you can send a personalized check-in to see if they're still interested.
See Also: How to Choose the Right Email Service Provider for Your Pool Service Company
6. Newsletters and Announcements – The standard newsletter is essential if you're focusing on content marketing. If these videos serve any function, it's brand awareness. They keep the company on your customer's minds, reminding them of your brand as often and consistently as possible. You want to ensure you're sending exciting things and keeping your readers engaged and interested. By offering them a good context mix and value for each email, they'll be more likely to engage.
See also: 5 Reasons Customers Aren't Reading Your Emails
Sometimes it's less about sending the correct email and making the right content and more about having the right strategy. If you've noticed your campaigns and emails are unclicked and ignored, or your content feels a little stale, you may just be too close. Like many others, you may need an outside eye to come in and figure out exactly what's going on and how to fix it. If you're too close to the campaign, things can be hard to figure out—it's not too late, even if you've tried everything. 
That's where we come in. With our team of marketing professionals, skilled writers, and pool experts at the ready, we're at your disposal. We'll run converting campaigns and spice up your marketing tactics, be it advertising, email, SMS, or more. Not sure what you need? Reach out, schedule a consultation with our team. We'll put together a package that works for you and your business – with all your unique needs considered.
The post 6 Email Ideas to Kick-Start Your Campaigns appeared first on Small Screen Producer.