Why we LOVE UGC (and you should TOO!)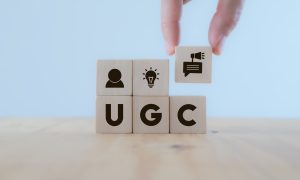 When we're in the market to buy things, we often look to people we know and trust for their recommendations. If a neighbor suggests a great contractor they had a fantastic experience with, we might be more inclined to call them to reach out. If your sister found a product she swears by, you're more likely to pick that up the next time you're at the store. Even if you aren't in the market for a specific item, recommendations can inspire you to make a purchase anyways – maybe your friend is gushing about the all-new gadget they bought, and you suddenly realize you need one too? 
Word-of-mouth marketing is valuable, but sometimes it's not just the opinions of those we know that we put stock in the views of. 92% of consumers claim to trust other people's recommendations, even in cases where they don't know them. This is the thought process behind reading reviews before adding a product to your cart – you consider how an item is received by a customer who bought it and showed it off on Instagram before buying it yourself. 
This is the power of User Generated Content (UGC). 
What is User-Generated Content?
UGC is any content created and shared by actual customers – modern-day word-of-mouth marketing that can take any form necessary. Whether it's a product review, a selfie, a video from a consumer, or whatever else you can think of. This is persuasive and inspiring content often found and shared on social media. More than 86% of companies rely on UGC from social media because 80% of people say UGC from social media impacts their buying decisions. In fact, shoppers are six times more likely to purchase an item if the product page contains images from social media. 
As a brand or social media manager, you always want to scale your brand, drive revenue, and build a loyal, engaged customer base. There's no better way to do this than by inspiring, gathering, and redistributing dynamic UGC. And that's what we're going to look at today – how your business can take advantage of the power of social proof and how UGC could take your content to the next level.
See More: 6 No-Fuss Ways to Get More out of Your Content
How Essential is UGC In Today's Market? 
Sharing social content from fans and followers has become a central part of success in eCommerce these days. It provides your new audience with social proof, and that drives revenue. Social proof is the concept that, when making a decision, we consider the decisions that others make. Since others have decided similarly and made a specific action, it must be right now. 
If you're trying to decide between two businesses to work with, and one has a wait list while the other can help you immediately. Which would you instead get in with? It's tricky because the perception of popularity does a lot of the leg work in these situations. This is social proof in action, and UGC is the equivalent of that mile-long wait list. It shows consumers what people are getting and where they're getting it from, and offers their enjoyment. It makes this new, uninitiated consumer worried that they're missing out on something that other people enjoy. 
Shoppers want to buy from other shoppers. Images, videos, and peer recommendations are more trustworthy or authentic than traditional advertising. 92% of shoppers trust peer recommendations more than anything they get from brands or retailers. 91% of younger consumers between the ages of 18-24 trust online reviews just as much as personal one-on-one recommendations. 
Shoppers seek out UGC-looking reviews. More than half of social media users will use their platforms to research studies for products. 93% of users claim those reviews will affect their purchase decision. In fact, 37% say more consumer photos and reviews will influence their decision heavily. Modern customers rely heavily on the social proof that studies provide – eCommerce brands stand to gain the most. Online shoppers don't have the opportunities that in-person shoppers do to compare products in person. Online shoppers rely on others' reviews and product photos to get an idea of their purchasing. 
Sourcing UGC to Utilize Across Platforms 
People want to interact with brands that engage back. It's good practice to like, comment on, or possibly even share customers' posts. Almost half of the shoppers claim they are more likely to buy if they see a brand respond and engage. On average, brands that respond to customers experience an incredible 98% conversion lift. 
How do you do it? UGC is not new to the market, but it's more prevalent and essential than ever. As people conduct less and less shopping in person, it's important to retain your brand relevance and keep your customers thinking about what your business can do. Being on social media is an excellent start to maintaining awareness, but is it enough? Marketing material may work on some platforms, but your content mix should start incorporating UGC. 
Your customers are already posting about you on social media, but getting captivating UGC is about knowing where to look and how to inspire it in a platform-specific way. You need to know your platforms and audience and study their existing behaviors on social media. Do they share before-and-after photos when they clean their pools, or are they keener to show off a process video while cleaning it? If they're tagging your products and chemicals, see how they're using it; native-to-platform content is the way to go with UGC because it doesn't feel like marketing material. 
Search Through Tagged Photos and Mentions – See what UGC exists about your brand already by checking out your mentions and tags on the platform. 
Host Hashtag Contests – Ask participants to share content on social media with a specific hashtag as an entry into your contest. This not only floods your social with marketing material for products or services but can allow you to collect a wealth of UGC. 
Share UGC in Posts & Stories – More people will create UGC when they know they could be featured and shared by the brand.
Sharing UGC: Developing a Strategy 
User-generated content should be a core part of your brand's social media strategy to build brand loyalty among consumers. Running social media pages means you know when and what to post to best engage your audience. When sourcing and sharing high-quality social UGC, However, there are a few things to keep in mind. You want to make your brand and eCommerce managers happy, and this will certainly keep everyone in the loop and impressed with your initiative.
Create a Content Calendar – Calendars can keep you organized. Having and maintaining a content calendar can make sure you don't miss important days or events in your industry. This helps to create a unified brand voice – something that 63% of businesses need more. 
Use a Scheduling and Analytics Tool – Make sure you never miss an opportunity to engage with your audience. You can utilize a scheduling tool that can help you maintain content on Instagram, Facebook, Twitter, and Pinterest. These tools will give you analytics beyond impressions, engagement, and reach. It's a better way to determine the revenue your social channels deliver. You can arm yourself with this valuable data to make stronger marketing decisions. 
Consider How Your Socials Work Together – Consistency is key. Your social channels should use UGC to align with your brand. Share UGC on the platforms they're suited for, connecting with the users who want to see it. Set yourself up to inspire followers to create content for you. 
UGC Best Practices  
There are a few things you can do to get the most out of your UGC. You should be doing this with the intent to help inspire users and consumers to create. These will help create a comfortable and open consumer relationship, and include:
Asking for Permission – Even though they've tagged you in a photo, you should take the time to get permission. Most consumers will be happy to share, but you don't want to make assumptions before reposting and sharing. Reach out, ask permission, and they'll be more likely to continue engaging.
Give Credit – Always credit and tag the creator where you can. 
Curate Content From a Variety of Users – Social media users come from diverse backgrounds and expect brands to acknowledge that. They want to see that considered in the content brands share. Be inclusive when you source your UGC and share content from various people. 
Allow for Discovery and Shopping
UGC can help re-create the in-store shopping experience online, which makes it an effective driver of purchases. 
Traditional eCommerce isn't designed for discovery – there's a difference between shopping and buying. Shopping is about gathering information, searching for inspiration, and making discoveries. Buying is driven by intent. This means purchasing a product or service that you already know you want. 
Even though Discovery shopping makes up half the retail market, many brands still need to provide inspiring online shopping experiences. Sites are designed with conversion in mind instead of discovery. Ecommerce sites are built from catalogs, consisting of product detail pages that contain specs rather than lifestyle content. It's professional, and often sterile, where organic content feels real.
Even in the pool industry, you should provide opportunities for discovery, even among customers who can't make it to a showroom. Nearly 25% of online shoppers who arrive on eCommerce sites land on a product page, and they're 72% more likely to bounce back from the site than those who land on other parts of your site. Giving them the shopping experience, without the in-person consultation, can be as easy as offering them UGC. UGC connects them to other consumers, seeing their experiences much like they would in a shared post by a friend.
Our Wishlists and Builder tools can also give them the showroom experience they're missing out on. Adding wishlists to your website can allow people to sort through your hot tub, pool, spa, and other options. The MyStaycation Builder will allow them to create and visualize it on their own. In turn, this creates social content that can be then shared.
The mix of new, engaging features and the social proof that allows potential customers to experience a piece of your company and its process from the comfort of their home can make a huge difference in your conversion and how you capture new leads along the way. If you're looking for a place to start – reach out. Set up a consultation today. Our team of experts would be more than happy to dive in and help pick together a package that best suits your needs.
The post Why we LOVE UGC (and you should TOO!) appeared first on Small Screen Producer.