6 No-Fuss Ways to Get More out of Your Content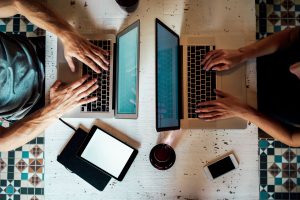 If you're struggling to create content, know you're not alone. Content marketers and creators all over have been working to produce engaging content, especially at the volume they're expected for. Despite its importance, it seems more difficult than ever to get it right – what even goes viral? Is viral content all it's cracked up to be? What converts into sales? What content will do more harm than good, and how do you avoid that altogether?
Maybe, in part, its a creativity issue – but we can't discount the sheer quantity of content online now. Everyone consumes media differently than others – there's no wrong or right way to do it. However, there are ways to determine if you're doing the right thing for yourself and your business. 
As a small business owner, you probably already know producing great content is the key to expanding your business. Great content, in turn, will help expose your business to a broader and more engaged audience. You may have heard that content marketing tends to generate 3x as many leads as traditional marketing. Maybe, you heard it actually ends up costing 62% less on average (DemandMetric).
But what makes it good content? How do you know it's "enough" for your audience? Is it a big budget or a time-consuming strategy? 
See Also: Why Interactive Content Is So Important for Small Businesses
Quality over Quantity
The best thing you can do to stand out is to focus your attention and energy on quality. Especially when it feels impossible to maintain quantity, against bot-run accounts churning out more every second.
Make your content better, and people will want to consume it. It's just that simple. 
Now, before you run out and hire someone expensive, or get all new tools.. do you know what "better"  looks like? Do you know the difference between different levels of quality content? Do you know what sets that standard?
Quality content can seem like a buzzword because what you think is quality might be very different from what someone else thinks. For simplicity's sake: it achieves your desired goal of persuading your audience to stick around, share it with their wider network, or into purchasing a product or service.
The best metrics to look out for are:
Time Spent Reading/Engaging
 Amount of Shares or Comments on the Post
 Number of People added to your Funnel or List
 The Number of Purchases Resulting from the Content
Quality matters more than ever now, given the number of distractions a modern audience faces, let alone anything in the post that might put them off. We've identified six key factors you should consider. These tips could make a world of difference when you're coming up with a new strategy. These tips approach things by hyper-focusing and honing in on your strengths, your audience, and what you can do without tearing your existing platforms down to the foundations. You might be surprised just how low-stress it can be. 
6 No-Fuss Ways to Get More out of Your Content
1. Make Sure You Know Your Audience – Every audience is different, and your audience is only something you can know. Specific content will work better with different audiences and on other platforms. In short, you should play to your strengths to market more effectively and directly to your chosen audiences. Every platform is a little different, with specific trends and best practices. Some video platforms are better for engaging and short-form, while others can handle more extended, tutorial-style videos. Start small – know what you have, and know what you know, then cater to what your audience wants to see. Let them know that you have other content on platforms – that way, if they're interested, they can opt in and follow you across websites to get everything. Over time, this will help you build more engaged audiences because they'll only follow the content they want. 
2. Don't be Afraid to Experiment With New Things – Do you have a comfortable social media following, but could you use more blog hits? Have you considered expanding into video formats but have only done image or written content before? Experiment with new forms of content, as you never know how it might catch on. Your video audience might love to listen to a podcast from you or read an entire blog – and you should be open to new opportunities like that. First, try a video or two on a new platform and see how it performs; hire a writer to write content for your blog and cross-post it to other platforms. This gives you valuable content insight to see what engages and what doesn't—something you shouldn't miss out on.
3. Become A Local Community Expert – You should aim to be their go-to resource: why would anyone trust someone if they don't see them as an expert? Build trust by showing your audiences that you not only know what you're talking about, but you also know what they need. A local expert will know their pain points and how they want to be pitched. You're pitching yourself as a solution or a resource that can inspire trust and loyalty in you—and, by extension, trust in and loyalty to your brand. 
4. Localize and Personalize – Your content shouldn't be one-size-fits-all since your audience will feel the lack of personalization. Localized and Personalized pieces will better engage your audience, hitting the pain points and searches they're REALLY looking for. Do you live somewhere where it gets cold in the winter? Pieces on winterizing their home Spa and Pool will hit better with your audience than they would in Florida. Meanwhile, someone outside a Hurricane zone doesn't need content on Tropical Storm prep. Remember: Your media exists for your audience, not the whole internet. Your audience will recognize this and grow around it – if you give them something valuable, they'll come back for more when they need it most. If your content becomes their go-to, they'll share it and organically grow your audience for you. 
5. Pick The Right Channels – Have you ever looked at the current channels you distribute content on and dove into whether you're using your time and content wisely? If your audience is split between different channels and platforms and performs equally well, then no loss. However, if you're devoting a lot of time to a forum that ends up under-performing or fails to convert… that's all wasted time. Make sure you're distributing your content on the correct channels for your local audience and business. Trying new things is valuable and important for growth, but you shouldn't feel like you have to dip your toes into everything at once.
6. Plan & Schedule Out – If you find yourself constantly getting behind on content, spend one day a month planning a content calendar for your business. This is all forms of content planned in advance, so you always know your next move. This can help you plan email campaigns, social media posts, blog posts, videos, and more all at once. You can create more mindful, thought-provoking content for your audience and plan things well ahead of time. If you have a social media or content coordinator, meet with them regularly to figure out what you'd like to prepare for, and see how you can build engagement and interest before a launch or event. Planning in advance gives you a lot of freedom down the road, especially if you automate or schedule it out. 
Upping Your Content Game
If you're looking to create a community and awareness for your company, no one-size-fits-all strategy will cover everything you need. If you're looking to boost your content strategy and attract new, loyal customers, you have to find ways to do it that will suit your business. What does your pool company do that the competitors don't? What can you show off that the others can't hold a candle to? Your content is meant to do just that – show off something about you and your business. You could make tutorials, share tips, take them along on projects, show before-and-afters, do comedy skits, write blog posts giving them techniques, countdown the days to an event or holiday, or whatever else. Do you know what your content mix is lacking? Content, like the business it's representing, should be unique. 
Of course, just having these tips and techniques might not be enough. If you've been lacking on your content strategy for some time now, it might take some work, or even some elbow grease, to get things right again. If that seems overwhelming, don't worry: you're not alone. 
Your content should be unique, but only some have the content mind to churn and plan it in advance, much less the desire to create or film it. That's where we come in — with content, and social media experts at our fingertips, the world (and your local audience) will be your oyster. Schedule a consultation, and we'll help you figure out the plan for you and your business. As we said before – things aren't one-size-fits-all, and your strategy shouldn't be either. That way, you can let the experts plan things out and leave you to do what you do best… that is, running your business! Schedule a consultation with our team, and we'll help you get things right this time – no fuss needed!
The post 6 No-Fuss Ways to Get More out of Your Content appeared first on Small Screen Producer.