Increase Customer Lifetime Value Through Your Own Loyalty App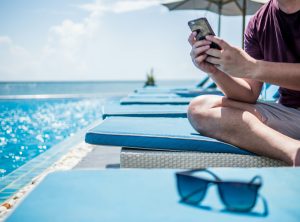 Are your customers satisfied? It's sometimes hard to tell, but you assume they are on a daily basis. In fact, most companies make these vast assumptions every day. They assume they aren't looking elsewhere, shopping around for a better deal. But.. do you ever really know? Truthfully, small, local business are most at risk here. Customer satisfaction should be at the very foundation of every strategy you employ – but is it?
A customer's lifetime value is the value they present to your company. The longer you retain a customer, the more valuable they are. You want them thinking of your pool business whenever they need supplies, or routine maintenance, right? Do you want them walking into your storefront to stock up before a big storm? Should they be reaching out to your team when they need a big repair or back-yard glow up? Chances are, yes, this sounds great – of course it does. However, satisfaction with your company and brand makes a huge difference in whether you're the guys they want to call. 
Most businesses make assumptions about their customer satisfaction, and don't want to hear that they're not doing enough. Sometimes, it's the last thing you do that makes all the difference. (Sometimes, nothing will make a customer happy – and that happens, no matter how hard you try.) There's no reason to panic if you realize your customer satisfaction isn't where you want it to be. It's just time to make some changes. 
It might seem impossible but there are ways to make changes, as soon as today. We have five things you can use to drive your customer satisfaction, while also inspiring loyalty. The sooner you get on the wagon, the better you'll be. The off-season is the perfect time to dive in and make these changes before the warmer months.
5 Ways You Can Use Customer Satisfaction to Drive Retention & Build Loyalty 
1. Continue to Measure Customer Satisfaction
Checking once is not enough – you should regularly assess your customer satisfaction. One-off positive feedback opportunities are nice for a boost, but there's no way to really gauge customer satisfaction. Someone doing an experiment wouldn't simply accept the first set of results – why would you trust the only review you got as gospel? There are plenty of benefits to continuous measurement, including: 
A Wider Pool of Opinions and Feedback
One customer is not enough – ten customers might not be enough, really. The more customers and people you can get feedback from, the better. This is because it gives you valuable insight across many different variables—whether it be demographic, service, or something else. 
Remember: Your results will almost always vary. 
Whether you're doing the same service two or three times, each customer might have a different opinion on the end result, have different opportunities for you to grow from, or have a different perception of your work overall. You should collect feedback from as many customers and sources as humanly possible, whatever that means. 
Long-Term Customer Retention
Your customers' opinions may vary depending on when and how they're contacted. If you contact a customer immediately after their service, they may have a different opinion than if you contact them six months after. People will revise their feedback and judgement, and that's important to keep in mind. In fact, that's how opinions and general satisfaction is formed, at its core.
Long-term feedback is important, as it will judge the staying power of your product or service, and routinely checking in with past customers will provide you with better insight. If a customer gives good feedback immediately after, then it only benefits you to do semi-routine "wellness" checkups down the line. Not only will you benefit from the insight they offer, but customers will also appreciate the care that has gone into it. 
Evolving Markets
Pool and spa markets evolve over time, just like every other industry. Being a business in this space allows you to grow and adapt to it or be left behind. This goes for your customers' needs, too—what they wanted in 2019 might not be the same as what they want in 2023. If you continuously measure their feedback and ask for it, you're acknowledging that there is room to grow, and you might find opportunities along the way. 
2. All Of Your Team Should Be Customer-Ready
Your whole team should be trained to handle customers, not just sales reps. They should know the importance of handling customers, including technicians, fitters, secretaries, accountants, and customer service managers. They all have the potential and opportunity to interact with your customers, meaning they have the chance to impact the customer experience. 
Spend a little time training each of these groups by going further than the base level. Help them move into "customer culture," focusing your business and their attention on the customer's needs. It's well-known that stellar customer satisfaction rates often correlate with good employee satisfaction rates—so there's more to be gained from this than just some five-star reviews. 
Having a loyalty program or app can allow your team to connect directly with your customers – sometimes even around the clock. Automated web chats can be built in and help them find answers located in the FAQ or based off a list built in. If their questions can't be quickly addressed, there can still be auto-answers built in to make things a little quicker. That way, the customer doesn't feel ignored waiting for a custom response. Having web chat built in can solve a lot of communication issues, while also gathering necessary info up front.
3. Improve Your External Communications
Sales will always depend on communications. Without powerful messaging and consistent, thought-out communication, customer satisfaction and retention rates will not stay in good shape. Keep in mind these golden rules: 
Connect With Your Customers
Personalize your Pitches & Communications
Be responsive and precise
Always be proactive
It's essential to understand what they bring to the table and how they work together rather than on their own. 
Connect With Your Customers – Otherwise known as learning how to listen and get in touch with your customers' feelings. It seems like a lot to do, but the truth is, if you aren't speaking to your customers, then what's the point of communication in the first place? Learn their needs, wants, complaints, pain points, how they communicate, and the platforms they most interact with. Know your customers, first and foremost, because you'll never be able to connect with them and inspire loyalty without that baseline understanding. 
Personalize Your Pitches & Communications – Every audience is different. Further, you'll have micro-audiences within your audiences that vary slightly. If you're using the same verbiage and copy across all platforms, to all audiences, with very little room for change, you're leaving money on the table. Customers want individualized relationships, especially when splashing out on a counter-current system or a new in-ground pool. People are often disappointed when a company or brand gives them the impression that they're one of many customers. It may lack personalization and personality, making people feel like they've been sold to. 
Be Responsive & Precise – Customers have adopted a culture of responsiveness built on instantaneity. Nothing is more annoying to customers than waiting for something they see as urgent. They become more frustrated and less satisfied when responsiveness with one brand doesn't match up to other standards. Responding quickly and promptly, whether in personal communications or publicly on reviews, gives customers a view of your process as a business owner, if not an outright look into your head. This creates a connection between you and the customer, even when it's not apparent. 
Always be Proactive – This is the simplest of any of them—you should be looking for opportunities. Reach out to them first if you don't hear back, send service reminders, and show them that you're on top of the ball. Some customers will value that constant connection, increasing their brand awareness. The next time they need your services, you should have positioned yourself carefully in their mind to ensure they think of you first – and being proactive with your customers will provide that. 
Apply these rules as often and soon as possible to all your communication channels. This includes e-blasts, phone calls, social networks, physical contacts, paperwork, and more. Make sure your social media channels are in tune with your goals, and your ads are personalized. Every company has gaps, and it's easy to miss them if you don't constantly monitor and revise your understanding. 
4. Accompany Your Customer
Customers are eager to DIY more than ever. Chances are, your demographic has been inundated on social media platforms with people "doing it themselves," and as long as they know how to do the job, they'll want to. Nothing pleases a customer more than when you suggest solutions that are flexible and adaptable to their own rhythms. 
Handy guides, assembly plans, and youtube tutorials are all successful ways to engage your customer's inner DIY professional. Providing them the tools to do things independently and answer frequent issues – like measuring water pH, pool cleaning, winterizing their spa, etc. – will empower them. Customers remember the companies that share their skills and want to help rather than just sell to them. You can use tools like these to garner interest in your services, provide engaging social media content, and more – it all depends on your needs and what you offer. 
Having an app can have you directly interacting with your customer base, without having to lift a finger. Geofencing promos and location services can keep you in their mind, even when they're near a competitor's location. You can send them push notifications, or even SMS communications when they've opted in. Your ability  to communicate is only hindered by the things you do and don't offer: customers are happy to work with companies they like, so make sure you're offering ways for them to do just that. 
5. Reward Their Loyalty As You Go
Last but certainly not least, giving a little can bring in a lot. Customer loyalty comes from a place of consistency and is the basis of every successful business. Recruiting new customers will cost three times more than keeping your existing base from straying elsewhere.  
You can do things like: 
Propose free delivery
Offer Discount Cards
Suggest Discounted Add-on Services
Give Personalized Gifts
Perks and Bonuses offered to In-groups
Or whatever else fits your business models – keeping customers happy will boost sales and keep them from going elsewhere. It's a cycle that works for you and your customer, mutually benefiting both parties. 
Rewards Programs
Reward programs are more effective in creating short-term loyalty with a base, no matter the industry. 80% of American adults are a part of at least one reward program. Providing them with clear incentives and reasons to continue working with your company is a great way to inspire loyalty without too much up-front work. Many businesses offer reward program apps or punch-card programs that incentivize loyalty. This leads customers to feel encouraged to return and continue their business. 
Loyalty App
If a private-label loyalty app is on your mind, and you're looking for a place to start that won't cost you tens of thousands of dollars in development, branding, quality assurance, beta testing, and other costs – our Loyal app is your one-stop shop to adding a mobile app component to your business. 
Whether you're new to the mobile game or want something fully customizable, quality-tested, and easy to use, check out our app here for more information. We've developed this app with your business and the evolving market around mobile apps in mind – so take a look because this might be the solution you've been searching for. 
See Also: Why Interactive Content is So Important For Small Businesses
Conclusion
Loyalty is hard to gain, but maintaining it is relatively easy. Positioning your business, seeking feedback, personalizing your communications, and responding to customers quickly are just a few ways to tackle this hurdle. Keeping your customers happy should be on your agenda, and we're here to help you. 
Don't hesitate to reach out if you're unsure where to start or want to dive deeper into your company's needs and how you can achieve those goals. Schedule a consultation with our team of pool and spa marketing experts. Getting an edge over the competition could be as easy as simply assessing where you're at and where you'd like to be. Without that information, how could you ever figure out what you need to do to get there in the first place?
The post Increase Customer Lifetime Value Through Your Own Loyalty App appeared first on Small Screen Producer.